Customer Address Label
What is a Customer Address Label?
A customer address label is a printable document that contains the primary shipping details for the selected customer(s). It is intended to allow you to easily post miscellaneous mail to your customers, and is not used at all during the order process.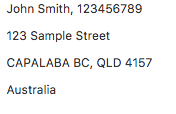 How to Print a Customer Address Label
Customer Address Label's are printed in bulk from the View All Customers page, though you can choose to only print one if you want.
Navigate to Customers > View Customers & Prospects.
Tick the customers you would like to print address labels for.
At the bottom of the page, select With X Selected > Bulk Print Address Label for Selected.
Accessing Customer Address Labels via FTP
All Customer Address Labels are stored here on the file server: /private/www/netosuite/SysDoc/printdocs/customer/addresslabel.
We recommend backing-up all print docs before making modifications.